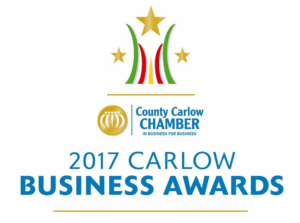 It was a great week for Tinteán, with recognition both on the national stage and locally in Carlow.
We were thrilled and honoured to be selected as the recipient of the Carlow Community Award for 2017 at the 2017 Carlow Business Awards which were held in VISUAL.
The Community Award is a very prestigious accolade and there were many fine nominees in the category, making it a very special award to receive.
Tinteán have been providing social housing in Carlow for the past 25 years and have made significant progress in the past three years in partnership with Carlow Local Authorities and the Department of Housing, Planning and Local Government to address the housing need of the County.
The Award was accepted on behalf of Tinteán by honorary Treasurer Mr. Frank Comerford.
Tremendous credit is due to Carlow Chamber on an outstanding event that provides recognition to local businesses spread right across the county.