History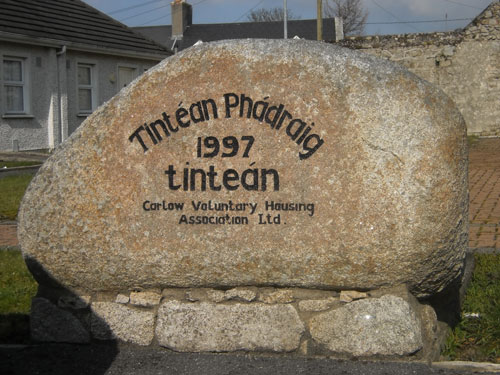 In 1991 a small group of volunteers from St Catherine's Community Centre in Carlow attended a Community Development course in conjunction with St Patrick's College Maynooth. During the course a number of needs were identified for the Carlow area, with housing identified as one of the key needs.
The following year, with support from the Irish Council for Social Housing (ICSH), Respond Housing Association and Carlow Local Authority Officials, the group worked to create Carlow Voluntary Housing Association Ltd., a voluntary housing body which would subsequently trade under the name of Tinteán.
Since it's establishment twenty one years ago Tinteán has developed housing for low income families, single people, older people and people with disabilities in Carlow Town and County. Delta provides the care and support services to people with disabilities living in Tinteán accommodation in the community.
Tinteán comes from the Irish seanfhocail or saying, 'nīl aon tinteán mar do thinteán fėin' which means ' there's no fireside like your own fireside' – there is no place like home! The fireside are at the heart of the Irish home and Tinteán recognises that quality housing is at the heart of creating sustainable communities.
Tinteán currently provide ninety nine units of accommodation with further proposed projects at various stages from construction to feasibility.
↑ Back To Top
Vision, Mission, Values
Tinteán's Mission
'A not for profit organisation helping to build homes for people'.
This reflects Tinteán's core mission and ethos, helping to provide housing to people who are vulnerable or are on low incomes. Tinteán provide the housing and the tenants provide the sense of community in all the schemes. The high quality of accommodation that Tinteán provides can be evidenced in the accommodation provided over the last twenty one years.
↑ Back To Top
How We Are Funded
Tinteán raised seed capital for the organisation by participating in the Eire Og draw in 1993/1994. This successful draw enabled Tintean to raise £17,788, which helped the idea of homes for people become a reality. In the light of today's costs this amount seems small, but it was the starting point for what Tintean is today.
The funding for Tinteán up to now has come via Carlow County Council from two schemes administered by the Department of Environment, Heritage and Local Government.
They are:
Capital Assistance Scheme
Capital Loan and Subsidy Scheme
Through these schemes and support from the local community Tintean continues to assist in the provision of social housing in County Carlow.
This funding model has now changed and we will operate in a much more challenging environment.
Tintean is affiliated to the Irish Council for Social Housing and the County Carlow Community Network.
↑ Back To Top
Our Policies
Housing Policy of Tinteán
Applicants are assessed according to any or all of the following indicators:
Applicants who are homeless or shelter less.
Applicants whose names are on the Local Authority Housing Lists, or who have statutory rights to be housed.
Applicants who because of age, infirmity, ill-health, overcrowding, unfit housing conditions, or other irremediable causes, find their present living circumstances particularly distressing.
Applicants who are householders, or whose families own the houses in which the applicants are the sole occupiers, may be considered if the applicants or their families cover the local contribution of the cost, provided that the applicant would otherwise qualify under 3 above.
The need for proper housing will be the over-riding factor in Tintean's assessment.
The ability of the applicant to live harmoniously with other tenants will be a factor in assessing the application.
Awards
Tinteán has long been recognised as a model of best practice in the Voluntary Housing Sector.
Chairperson Eileen Brophy was awarded Board Member of the Year 2007 by the Irish Council for Social Housing in recognition of outstanding service.
Tinteán Treasurer Frank Comerford was also recognised in 2013 with the Board Member of the Year Award by the ICSH recognising Frank's outstanding service.
↑ Back To Top