The national housing awards organised by the Irish Council for Social Housing took place in Limerick's Strand Hotel on Wednesday night. We were honoured to be selected as the overall winner in the Housing for People with Disabilities category.
There were eight categories of awards and the quality of projects was breathtaking:
Housing for Older People
Housing for People with Disabilities
Most Creative Supply Response
Homeless Projects
Housing for Families
Collaborative Initiatives
Regeneration
Community Integration
All AHBS had to submit a detailed submission outlining the project. Projects were then visited by the ICSH and shortlisted. Each organisation had then to present the project to an independent adjudication panel. Shortlisted projects produced videos that were shown to the packed attendance at the Awards ceremony.
Tinteán Willow is a landmark project – the first group home for people with disabilities designed and constructed to Passive House standards. The house caters for 6 special needs tenants and a house parent. It has been built on an existing site with an existing special needs home and has been designed to create a shared, private area between the two homes.
The house now serves as a home from home for elderly special needs tenants with care provided by Delta Centre.
Tinteán Willow contains spacious living / dining room, kitchen, family rooms and two wet rooms, six special needs bed rooms (two en-suite) and house parent accommodation on the second floor.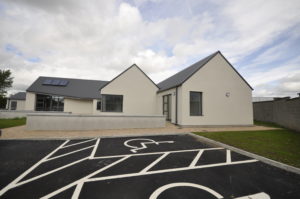 Because this new home is specifically catering for older persons suffering from various forms of dementia, special consideration was given in the design to awareness and orientation, safety and
security and the provision of visual and acoustic stimulation.
The house caters for six special needs tenants with accommodation also for a house parent.  House parent en-suite accommodation is located upstairs.
Living areas were designed to capture maximum sunlight and to provide a diverse range of spaces for relaxation and recreation. The dining area is located in the main open plan double height
living space and is designed to encourage interaction and engagement among the tenants.
There are six bedrooms for tenants, two have en-suite toilet and shower designed to be fully wheelchair accessible.
Bathrooms are wet room style with appropriate non slip flooring.
Assisted shower rooms allow sufficient space for the safe working of care staff.
An assisted bathroom with WC is provided incorporating a Parker bath with ceiling mounted track hoists.
External areas are a mixture of hard and planted landscaping linking existing gardens and both houses and are designed to offer private and shared external areas.
The Management model for these special needs homes has developed over the years and is a robust and efficient use of expertise, resources and personnel.
A service level agreement exists between Tinteán, who manage the property, and Delta Centre who provide the care service in our homes.
It is a good example of successful collaboration between ourselves and all our partners – Delta Centre, Carlow County Council, Department of Housing, Planning, Community and Local Government, HSE and HIQA.
Tinteán provide the accommodation and are responsible for the management and maintenance of the property in conjunction with the Council and the Department.
Delta provide the care and support needs, including transport needs for their clients.
HSE provide the funding support to Delta to provide the level of service required.
HIQA's role is to develop standards, inspect and review health and social care services and support informed decisions on how services are delivered.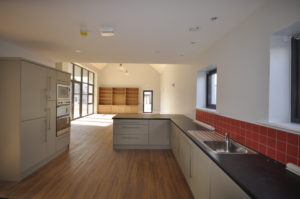 We are extremely proud that Tinteán Willow is, we believe, the first special needs home to be designed and built to Passive House standards incorporating excellent standards of air tightness,
excellent thermal performance of the building fabric and low energy in use due to the incorporation of renewable energy sources such as photovoltaic panels, and an air to water heat pump. Other
sustainable measures include the use of a Mechanical Ventilation Heat Recovery system and rainwater harvesting on site.   The low primary energy requirement of Tinteán Willow, provides
protection to our tenants and service provider against the possibility of fuel and energy price increases in the future.  The heating requirements in a special needs home are higher than in a
standard house. Passive housing allows us provide the appropriate living conditions for these tenants, many of whom have an inactive or sedentary lifestyle
The Design team was led by Meme Architecture and consisted of Meme, Brennan Associates Quantity Surveyors, Bowe Consulting Engineers and Galileo Energy Services.
Main Contractors were John Somers Construction Ltd.