All of us in Tinteán were delighted to have Minister for Housing, Planning and Local Government Eoghan Murphy officially open our latest special needs home, Tinteán Willow on Monday 16th July last.
The opening ceremony was also attended by our residents and their families, friends of Tinteán and special guests, including Brian O Donoghue, Cathaoirleach of Carlow County Council and members of Carlow County Council.
Working in partnership with Carlow County Council and the Department of Housing, Planning and Local Government, Tinteán Willow was developed as part of the Rebuilding Ireland Programme. The house was constructed in 2016/2017 with funding from the Capital Assistance Scheme plus funds from Tinteán.
It is a landmark project – the first group home for people with disabilities designed and constructed to Passive House standards. It has been built on an existing site with an existing special needs home and has been designed to create a shared, private area between the two homes.
Tinteán Willow is the very latest manifestation of our commitment as an organisation to provide homes in the community for people with special needs. It is an award winning home having been chosen as the winner of the 2017 Housing for People with Disabilities Award at the Allianz ICSH Community Housing Awards.
It is the first house designed and built to Passive House standards in the sector incorporating excellent standards of air tightness, thermal performance of the building and low energy use. This will provide our tenants with protection against the possibility of fuel and energy price increases in the future.
The house will serve as a home from home for elderly special needs tenants with care provided by Delta Centre.
Tinteán Willow contains spacious living / dining room, kitchen, family rooms and two wet rooms, six special needs bed rooms (two ensuite) and carer accommodation on the second floor.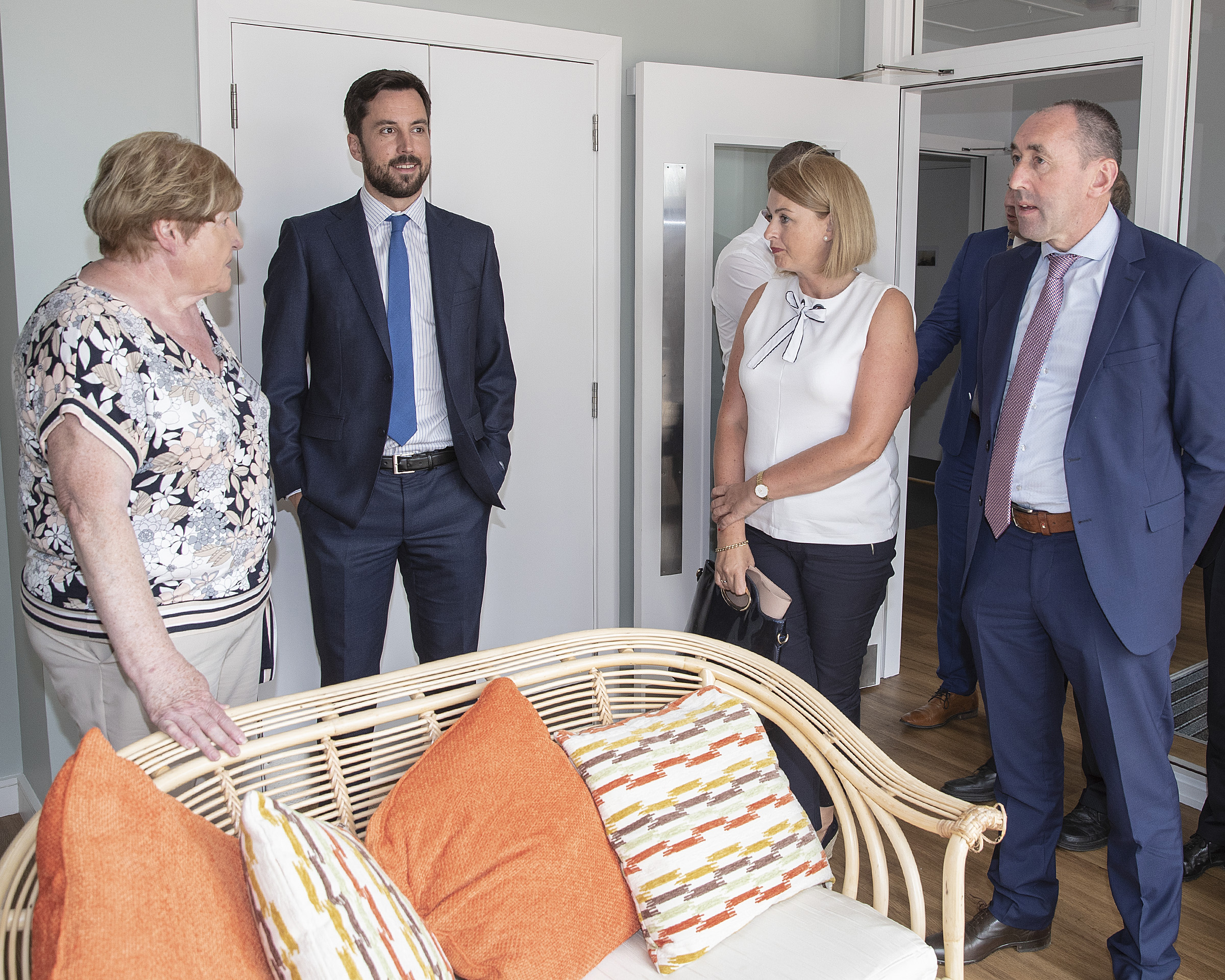 Eileen Brophy Chairperson Tinteán shows Eoghan Murphy TD, Aoife Fitzgerald Disability Manager HSE Area 5 and Pat Deering TD around the Tinteán Willow residents.
Photo: Thomas Nolan Photography.