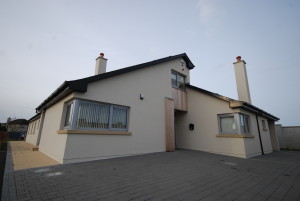 11 Blackbog Grove was developed by Carlow Voluntary Housing Association, working in partnership with the Delta Centre, Carlow County Council and the Department of the Environment, Community and Local Government. The house was constructed in 2013/2014 with funding from the Capital Assistance Scheme plus funds from Tinteán and some funding from the HSE and Carlow Rotary Club towards fitting out costs.
The house provides a high standard of accommodation in the community for up to 5 people with intellectual disabilities, plus a social worker from Delta. Each resident has their own bedroom plus there are excellent communal facilities and landscaped gardens.
Staff and Board members from Delta Centre and Tinteán were on hand to welcome the residents to the official opening of their new home, along with their friends and family.